We provide telehealth services to all our regional patients.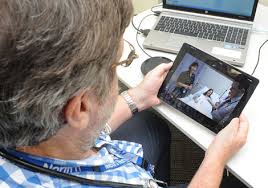 "Telehealth services use information and communications technologies (ICTs) to deliver health services and transmit health information over both long and short distances. It is about transmitting voice, data, images and information rather than moving care recipients, health professionals or educators. It encompasses diagnosis, treatment, preventive (educational) and curative aspects of healthcare services and typically involves care recipient(s), care providers or educators in the provision of these services directed to the care recipient."
http://health.gov.au/internet/main/publishing.nsf/Content/e-health-telehealth
All telehealth services with our remote patients are bulk billed.  We use various methods of communication.
Please speak to your practice about the ability or our rooms if you wish to do it from home.