A stress echocardiography, also called an echocardiography stress test or stress echo, is a procedure that determines how well your heart and blood vessels are working.
During a stress echocardiography, you'll exercise on a treadmill while your doctor monitors your blood pressure and heart rhythm.
When your heart rate reaches peak levels, your doctor will take ultrasound images of your heart to determine whether your heart muscles are getting enough blood while you exercise.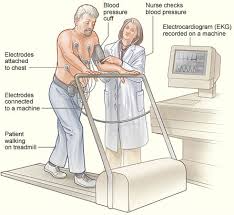 Your doctor may order a stress echocardiography test if you have chest pain that they think is due to coronary artery disease or a myocardial infarction, which is a heart attack. This test also determines how much exercise you can safely tolerate if you're in cardiac rehabilitation.
The test can also tell your doctor how well treatments such as bypass grafting, angioplasty (stents), and anti-anginal or anti-arrhythmic medications are working.
Prior to the test you will be required to stop certain medications up to two days prior.  Please consult your pharmacist if you are unsure if you are on any of the medications.
MEDICATIONS WHICH NEED TO BE STOPPED PRIOR TO THIS TEST
Note – DO NOT stop any other medications
Medications which need to be stopped for 2 full days (48 hours) prior:
Alprenolol – Aptin
Atenolol – Tenormin, Noten, Tensig, Atehexal, Gen Rx Atenolol, Anselol, Atenolol BC, DBL Atenolol, Atenolol -GA
Metoprolol – Betaloc, Lopressor, Minax, Gen Rx Metoprolol, Metohexal, Metolol, Metoprolol BC, Metrol, Toprol XR
Oxprenolol – Corbeton
Pindolol – Barbloc, Visken
Timolol – Blocadren
Nicorandal – Ikorel
Esmolol – Breviblock
Propranolol – Inderal, Cardinol, Detalin
Bisoprolol – Bicor, Bisoprolol
Nebivolol – Nebilet
Labetolol – Tranatate, Presolol
Medications which need to be stopped for 1 full day (24 hours) prior:
Verapamil – Isoptin, Isoptin SR, Veradil, Verapamil, Anpec, Anpec SR, Cordilox, Cordilox SR, Veracaps SR, Verahexal, Tarka+
Diltiazem – Diltahexal, Dilzem, Dilzem CD, Cardizem, Cardizem CD, Vasocardol, Coras
Lercanidipine – Zanidip, Zan – Extra
Felodipine – Plendil, Plendil ER, Felodil XR, Feldur ER, Triasyn+
Ivabradine – Corelan
Medications which need to be stopped on the day of the test:
Digoxin – Lanoxin, Lanoxin PG, Sigmaxin
Amlodipine – Norvasc, Caduet, Amlo, Nordip, Coveram
Nifedipine – Adalat, Adalat oros, Adein, Addos XR
Carvedilol – Dilatrend, Kredex, Dilasig, Vedilol, Dicarz
Isorbide mononitrate – Duride, Imdur Durals, Imdur, Imtrate SR, Isomonit, Transiderm, Nirtobid patches, Imtrate SR, Monodur, Sorbiden, Mononitrate
Medications you should NOT stop – please consult your Doctor
Sotalol – Sotacor, Sotab, Solavert, Cardol, Sotahexal, Gen rx, Sotalol, Aratac, Cordarone
"https://www.healthline.com/health/stress-echocardiography"